Mosquito Clear - Outdoor Comfort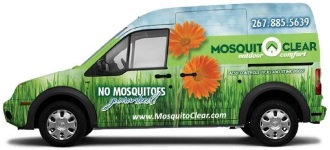 Our EPA approved treatment gets applied to trees, shrubs and foliage surrounding your outdoor living space. Making your entire property MOSQUITO CLEAR!
Enjoy Outdoor Comfort in Bucks County, PA with 'MOSQUITO CLEAR'
Now You Can Enjoy Outdoor Comfort... MOSQUITO CLEAR!


 ∗  No  more bug repellent on you or the kids.
∗  No  more special torches or candles.
∗  No  more swatting at buzzing mosquitoes.
∗  No  worrying about pets acquiring mosquito-borne diseases at home.
We'll create a MOSQUITO CLEAR outdoor area for your family and your pets.
The MOSQUITO CLEAR program is dramatic in its ability to kill all the mosquitoes that are present during application and acts as an Invisible Barrier keeping other mosquitoes away. We return every 21 days, throughout the mosquito season, to re-treat the area so that your property remains MOSQUITO CLEAR.
MOSQUITO CLEAR also is certified to control the following...
   ♦ Ticks - Learn more by visiting our Tick page.
   ♦ Stink Bugs - Pennsylvania's own, Brown Marmorated Stink Bug.
Contact us today to learn more about how we can help keep your property clear of pesky mosquitoes and other nuisance insects.
We have plans to fit your budget and most importantly, we have EPA approved treatments that get applied by out trained personnel. When applied to trees, shrubs and the foliage, surrounding your outdoor living areas, Mosquitoes Stay Away.
Reclaim your yard with MOSQUITO CLEAR!
Quick Service Request
Save 50% NOW!*
* FIRST APPLICATION / MINIMUM $40 SAVINGS
UP TO ONE ACRE.